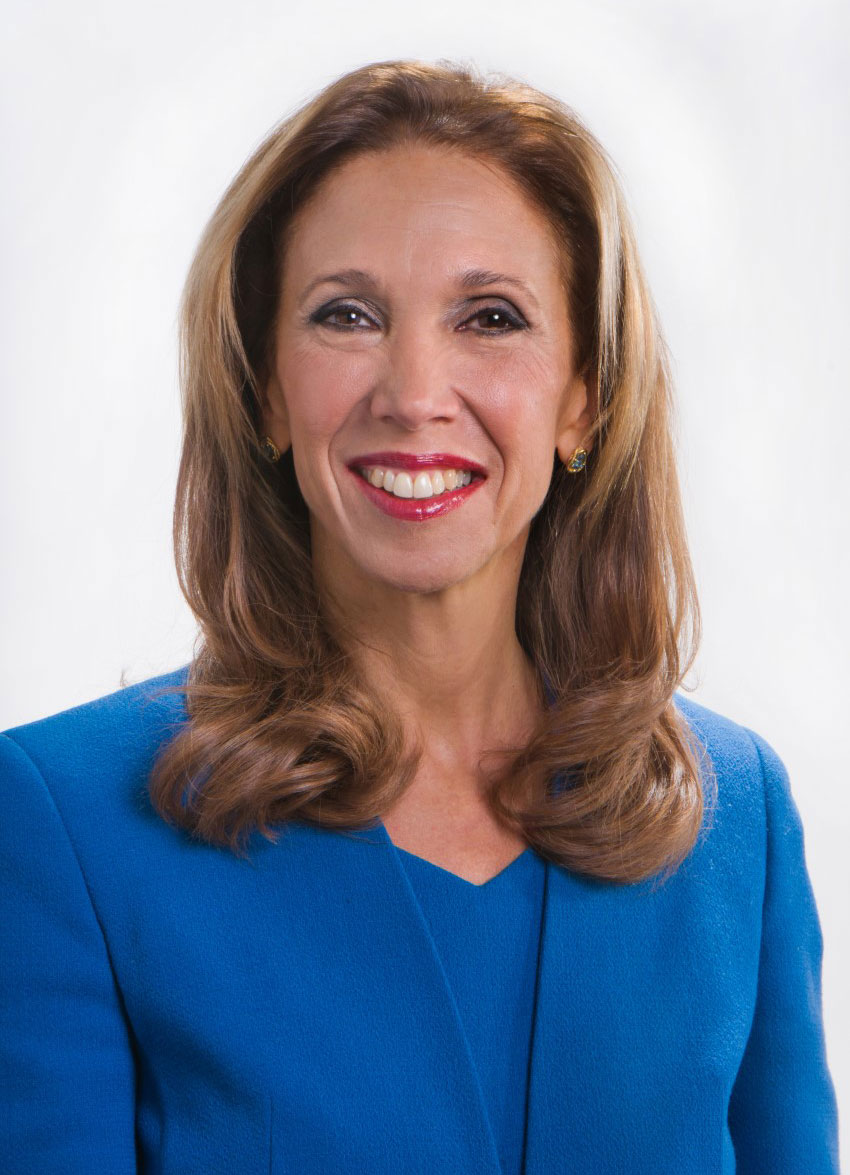 Assemblymember Amy Paulin
Assemblymember Amy Paulin has served the 88th New York State Assembly District (Scarsdale, Eastchester, Tuckahoe, Bronxville, Pelham, Pelham Manor, and parts of New Rochelle and White Plains) since 2001. She chairs the Assembly Committee on Corporations, Authorities and Commissions, and serves on the Committees on Rules, Education, and Health. She has been a long-time advocate of the optometric profession and sponsor of legislation that will expand the scope of care to allow optometrists to prescribe oral medications to patients.
A full-time legislator, Assemblymember Paulin annually ranks among the state's most productive and successful lawmakers. Her diverse legislative agenda includes state government reform, children and families, domestic violence, sex trafficking, education, health care, animal welfare, and preventing gun violence. She served as the Chair of the Assembly Committee on Energy from 2013-2017, working to encourage renewable energy and ensure our electricity grid is reliable.
---
Honorary Degree Recipients
Click on pictures to read their bios
Congratulations Class of 2021!
Candidates For The Degree, Doctor of Philosophy in Vision Science
Rakesh Nanjappa
Effects of Top-Down Attention on Oculomotor Behavior
and Superior Colliculus Neurophysiology
Advisor: Robert McPeek, PhD
Candidates For The Degree, Master of Science in Vision Science
Malini Bakthavatchalam
Age-Related Changes in Optic Nerve Head Structure and Visual Field Sensitivity in Normal Subjects - A Preliminary Study
Advisor: Suresh Viswanathan, PhD
Keying Yang
Digital Eye Strain and the Critical Flicker Fusion Frequency
Advisor: Mark Rosenfield, MCOptom, PhD
Joonsik Moon
The Role of the Superior Colliculus in Smooth Pursuit Eye Movements
Advisor: Robert McPeek, PhD
Candidates For The Degree, Doctor of Optometry
Dhekaa Al Muntaser
Adrien M. Almonte ⚬
Kseniia Ananieva
Emily Christine Aristizabal
Rebecca Bablin
Michelle Bangiyev
Henry Banh
Reyna Betances
Himakshi Nimish Bhatt * ** ⚬
Brenda Botwinick
Anthony Thomas Boyd * **
Marianna Carmella Butera +⚬
Ryan James Campbell +
Alice Jue Jue Chen
Shuyi (Suzy) Chen * ** + ⚬
Susan Chen
Schuman Anan Chen
Christina Cherny * ** ⚬
Cassandra L. Chow
Charles A. Cohen
Levon Dang
Charles Daniels III
Taylor Michael Davis
Stephen Dellostritto * ** ⚬
Jessica Deng
Rachel T. Du
Jeremy Du
Indigo Ensign
Hannah Rosa Fabiny
Raymond Bryant Farmer * ** + ⚬
Rochelle Emanuella Fleisher
Morgan Reinelle Franke
Smita Govilla * ** ⚬
Ivanna Stepanivna Grynyk
Sathvika Gunturi
Chana Haimowitz * ** ⚬
Taisir Hamouda
Hanne Karolina Hansen * ** ⚬
Elise Julia Hoi * ** + ⚬
Angelina Isakova
Leyla Karim
Gursimran Kaur ⚬
Kiyana Shirin Kavoussi
Shauna Lynn Kehoe
Faiza Khalid *
Alex Kimm
Holly Elizabeth Knoechel * ** ⚬
Amanda Kaylin Kulberg * **
Helen Lam
Jeffrey LeBlanc
Sam Kum Lee * **
Kevin Jon Leung
Melissa E. Levine * **
Megan Li
Jiaoyang Li * **
Peiwei Lo * **
Rhea Paige Magee
Mariah Rachelle Marshall
Alham Mohammad Ali
Esther Moller
Carey Jane Murzynski
Martin Nguyen
Ian Price Olexio
Sweta Sudhir Patel
Daniella Perlstein
Jonathan Nguyen-Khoi Pham * ** + ⚬
Sarah Pinkhasov
Danielle Polvanov
Junaid Shahzad Qureshi
Imad Rahman
Farhana Salek
Alina Sample * **
Cassidy Marie Sauer *
Harry Sehdev
Sophia Serobian
Jubin Bharat Shah
Sherry Xuanming Shang * ** +
Emily Shtull
Shreyal Shukla
Kevin Anesh Singh ⚬
Tyler Thompson
Stephanie Tituana
Kent Uehara * ** + ⚬
Lisa Wadolowski
Angela Wen
Miu Yi Wong
Elton K Wong
Xiao Jing Xu
Keying Yan * **
Peter Heesung Yoon +
* Beta Sigma Kappa member
** 4-year BSK member
+ Gold Key Society member
⚬ Micro-Credentials